It's that time of year again – leaves are changing, kids are picking out their costumes, and sweaters are being pulled on again after months of warm weather. That's what fall means to a lot of people. But for some, it means only one thing: football. The season is upon us, and what better way to spend time with your friends and family than by throwing an awesome backyard tailgating party? You may be wondering where to start with planning your game day festivities. To help you out, here are some essential steps for hosting a home tailgating party that you don't want to overlook.
Setting the Scene
The weather is perfect at this time of year to abandon your living room for get-togethers, and instead spend time entertaining outside. As you turn your backyard into the ultimate tailgating celebration, be sure that you set up food and drink stations and arrange a comfortable seating area around your outdoor screen. Don't forget to make the setting festive:
Decorate with your team's colors – it's easy to find tableware, napkins, balloons, and other decorations in various colors at your local party store.
If you and your friends cheer on a local collegiate team, think about visiting the campus store for team-related party favors, decorations.
Find football backyard games for commercial breaks, halftime, and bored kids! Get a team-specific cornhole game or quarterback passing practice target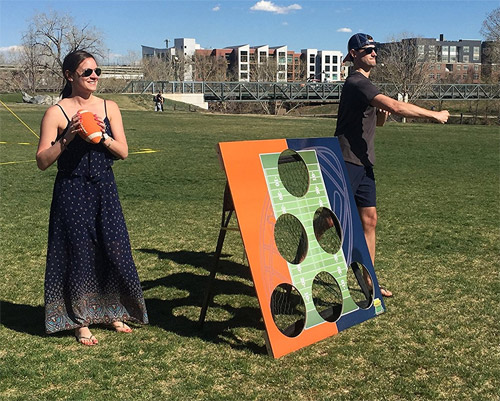 Planning Your Menu
When it comes to planning what you are going to serve the guests at your tailgate extravaganza, think stadium food.
Grill up some hot dogs, making sure that you have all the fixings available.
Other great ideas for food include nachos and soft pretzels with different dipping sauces.
No tailgating party is complete without a huge pot of homemade chili.
You can make the food fun by creating different "bars" that have all the condiments for your main food items. Your nacho bar might have salsa, black beans, guacamole, and pickled jalapeños, while your chili bar may have shredded cheese, sour cream, diced onions, and cornbread muffins.
Side dishes for your tailgating party are easy, chips and dips, a platter of veggies and ranch dressing, and bags of warm buttered popcorn will satisfy your guests.
Don't forget to put some sweets on the menu! If you have a firepit, you can get all the ingredients to make s'mores and let everyone prepare their own dessert. If you don't have a firepit, or s'mores might be a little too complicated, you can buy pre-made churros and warm them up before serving them.
Did you know that you can order M&M's candies in whatever colors you want online? What a great way to celebrate your team by filling candy dishes with M&M's in your team's colors.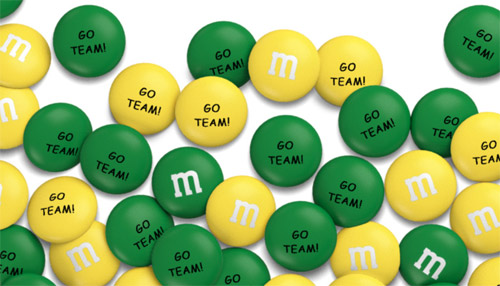 Running Hot and Cold Beverages
Be sure that you have plenty of coolers filled with ice and cold drinks like beer, soda, and bottled water. Also, remember to have something warm on tap as well, in case the evening gets chilly – coffee and hot chocolate work great.
Getting Ready for Game Time
Now that you've prepared for all the decorations, food, and beverages, all that is left to do is to get ready for game time. You'll want to make sure that your outdoor TV and speakers are ready to go. Can you use an indoor television outside? Never bring an indoor TV outside, it's risky because it's not designed for outdoor use (just check the manual) and could be damaged or even worse, create an unsafe condition for you family or guests. Instead, you'll need a weatherproof outdoor TV, coupled with audio designed for outdoor all-season use. TVs that are built specifically for outdoor use are safer and provide a better viewing exerience in harsher outdoor environments (brighter/anti-glare)
Make sure that you have lots of comfortable seating around the TV and that your sound is loud enough for everyone to hear. Have some throw blankets and extra sweatshirts (with your favorite team on them, of course!) nearby for guests that get cold.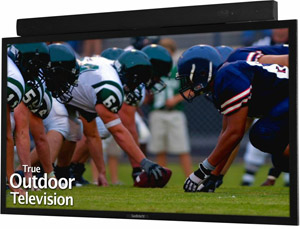 There may be partygoers who are more interested in the party than the game, so make sure that there are areas away from the TV that are set up for mingling and chatting. And always let your neighbors know when you are having an outdoor party so they are prepared should the cheering get loud. Or, better yet, invite them over. They are sure to have a great time with all of your other guests, and you too