First-Ever SunBriteTV Outdoor TV Tailgating Sweeps Attracts Outdoor Living & All-Weather Sports Fans
The first SunBriteTV Outdoor TV Ultimate Tailgating Sweepstakes announces its first-ever winner (drum roll, please) … the winning entry is …. Erin St. Ores of Minnesota!
Erin is one of hundreds of football tailgating, sports and outdoor living fans who entered our Ultimate Tailgating Sweepstakes – through Facebook.com/SunBriteTV or SunBriteTV.com – for a chance to win a SunBriteTV 42″ Pro Series direct-sun tolerant outdoor TV and Dish® KING Tailgater Bundle. The complete sports-lovers outdoor entertainment prize package includes:
SunBriteTV award-winning 42″ Pro Series direct-sun readable outdoor HDTV – model SB-4217HD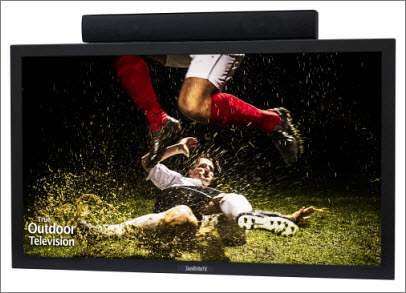 An all-weather table-top stand for the SB-4217HD
Dish® KING Tailgater Bundle w/1 year free America's Top 250HD Multi-Sport pack programming
Honda® EU2000i Generator – to power up the outdoor entertainment center
Standard shipping & delivery of the Grand Prize to the winner
The prize package is valued at more than $6,000.
UPDATE! Winner Receives SunBriteTV Outdoor Entertainment Prize
It took only days for the prize package to reach Erin at her MN home. She sent us a photo of her new SunBriteTV outdoor TV, just as seasonal snow finally started falling in 20-degree temps.
Winner Planned 'Outdoor Living Area'
"I was really surprised! It was unexpected," says Erin St. Ores when she found out she was the winner of our Outdoor TV Ultimate Tailgating Sweepstakes.
Erin and her husband Patrick were already creating an outdoor living area as an extension of their home. "All we need is an outdoor TV," says Erin. An outdoor TV designed & engineered to withstand harsh Minnesota winters so they can watch game-day action in any weather.
The St. Ores were once residents of Wisconsin, but now live in the land of Vikings. Erin says her favorite team is the Green Bay Packers – and has attended many Packers tailgating events to support the team.
Erin entered the SunBriteTV Tailgating sweeps after researching outdoor TVs online. She hoped a win would complete their outdoor entertaining plans. "We're excited to have an outdoor TV," expressed Erin, who added that her husband is especially excited the prize package included a generator. The Dish® KING Tailgater Bundle will also keep everyone entertained with the Multi-Sport Pack programming. A pretty sweet deal!
Dallas Cowboys Tops List of Favorite NFL Teams
Participants of our Outdoor TV Tailgating sweeps told us who their favorite teams are. There's a lot of passion this game-season, and here's a top-five list of the teams selected most often:
Dallas Cowboys
Green Bay Packers
Seattle Seahawks
Denver Broncos
New York Giants
Favorite college teams:
Alabama Crimson Tide
Ohio State Buckeyes
USC Trojans
Arkansas Razorbacks
FSU Seminoles – LSU Tigers (tie)
Entrants were invited to submit photos of their favorite tailgating spot or team moment. This is one of our favorites – future hall-of-famers in Evansville, IN.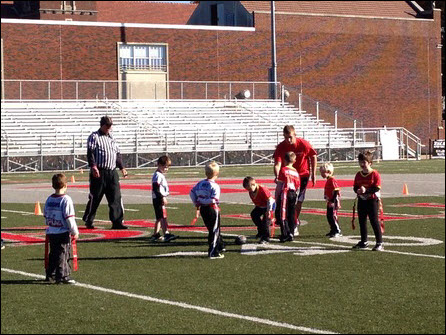 We heard from lots of fans who tailgate in style, like this fan celebrating the Chicago Bears: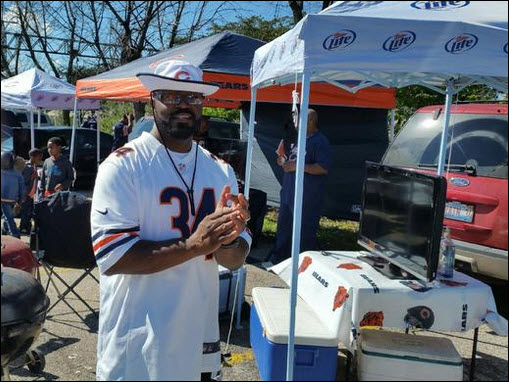 An art teacher & her class paint logos on their school field for a home game: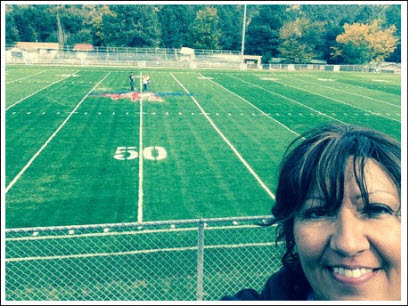 Friends who always find time to gather on game day: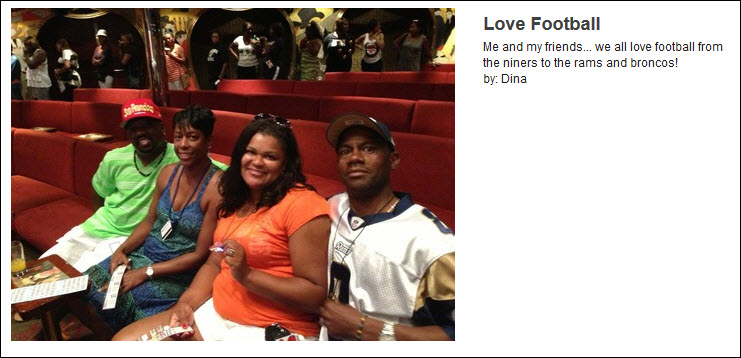 Florida Gators' fans getting ready to battle in the swamp: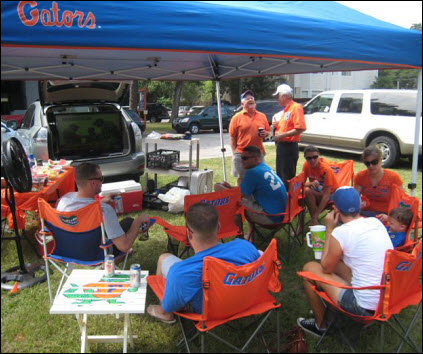 A care bear cheers with Pitt State: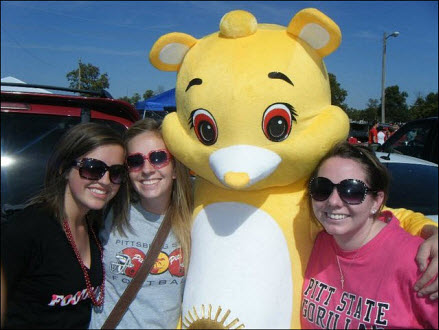 See our outdoor living and outdoor TV photo gallery for ideas on building a great outdoor space for football parties or any game-day gathering. Keep on tailgating and following your favorite teams!
December 18, 2015
89 view(s)