St. Louis A/V Master Nabs Top Place for 'Outdoor Living' Setting
After 8 months, dozens of photos, hours of ohhing-and-awwwing, and a multitude of patient participants, SunBriteTV - the leader in outdoor television - has selected the grand prize winner of our first-ever Backyard of the Year - 2013 photo contest. Kevin Burnley - President & Owner, Creative Audio Video and Automation, St. Louis, MO - takes year's best for his "ultimate pool area" photo of a 32" SunBriteTV Signature Series sweet custom installation. Burnley is an authorized SunBriteTV dealer/installer. He wins either a vibrant weatherproof 55" 5565HD or a spectacular - king of all outdoor TVs - 65" 6560HD LED ... along with the TV's weatherproof, rustproof mount.
The home owner of that lovely pool setting in Burnley's photo also wins. The home owner will receive their choice of either an amazing Lynx grill or top-notch Lynx outdoor appliance, such as an outdoor refrigerator, wine cooler or oven/stove. They also will receive two outdoor gas heaters and two SoundCast Outcast outdoor speakers.
There's more. Due to the overwhelming amount of quality entries - a sign that outdoor living and outdoor entertaining is a growing trend - SunBriteTV selected two Backyard of the Year - 2013 runners-up.
For those of you who ask, "Where should I place my outdoor TV?"...
Digital Home Technologies, Palatine, IL submitted a series of jaw-dropping photos of a patio TV setting fit for a movie star. John Goldenne and his team are responsible for the custom integration of outdoor TV tech with backyard mother nature.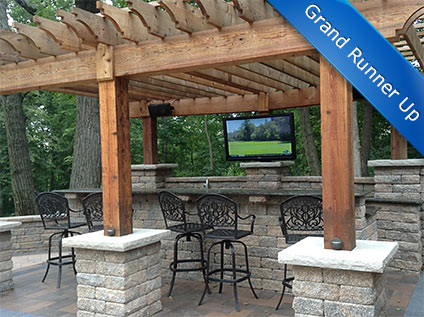 Take another look. Now, that's a great outside entertaining area ...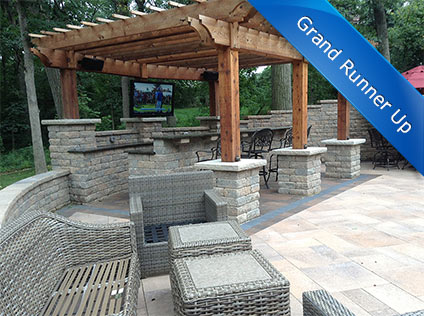 Another photo entry shows off THE biggest trend in outdoor creative-space use -- the outdoor kitchen. Innovative Environments of Ferndale, MI installed a SunBriteTV over this customized kitchen. A great place to grill and saute while keeping up with "the game" or latest news on all-weather HDTV. Congrats to Russ Wolfe and team for their spectacular work and photo!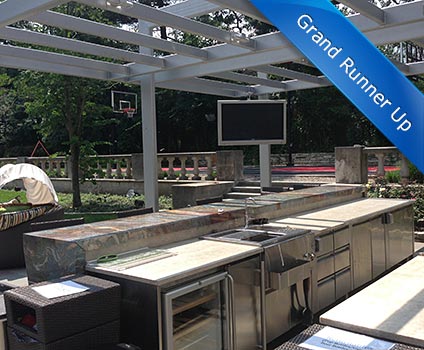 Backyard of the Year photo contest runners-up receive an outdoor SoundCast Melody speaker.
SunBriteTV thanks all who entered. We're impressed with the amount of creative ideas and talent between installer and home owner in their combined quest for unique, backyard living areas.
February 7, 2014
467 view(s)